As Columbia screams your name and Alma Mater's arms open even wider to welcome her newest litter of lion pups, we bring you the NSOP-appropriate Freshman Fifteen, a series of posts to take incoming freshmen through Orientation. Some of these are serious advice columns, others not so serious, and some just musings on starting your four years at Columbia. If you have advice you'd like to share, reach out to us at tips@columbiaspectator.com. Feels like only yesterday months ago that you waited with bated breath for the decision that would make or break your young life significantly change these next four years.  In the following months, you probably did one or more of the following: 1. Fantasized about sitting on Low Steps engaged in gossip intellectual conversation with your like-minded peers.
They knew what was up long before you got admitted. Tumblr
2. Memorized the Columbia fight song. 3. Mentally designed your dorm room. While those are things we've all been guilty of at some point in our Columbia-defined lives, they might not all be things you're going to experience, because: 1. The soul-searching  conversations on the Steps will happen once your upperclassmen Orientation Leaders friends have made sure you're well-stocked on libations and ready to really have a "Shit, I'm actually here" moment. They might also be with totally random strangers from your NSOP group that you met five minutes ago. 2. You might never be required to sing the Fight Song on demand. Except for your first (and for some, only) Homecoming game, nobody's testing you anytime soon. You might, however, be asked to recite your ABC's backwards as part of a sobriety test. 3. Your dorm room will not be as easily designable as you imagined, but decorating it surely is an exercise in character building. Future John Jay single-owners, your smart furniture rearrangement  decoration  will be Space Optimization 101, and Carman residents have a large expanse of prison wall  beautiful white wall to make your own.
The small-room-syndrome. Tumblr
Here's what else you can expect from NSOP. 1. You may not meet your best friends on Day 1, but you sure will meet a lot of people. Introduce yourself to everyone, initiating conversation until something sticks. Your face might hurt from all the smiling, but it's worth it when you sink into your Twin XL bed that night knowing that 2.5 people out there remember your name. 2. This is probably the only time in your college social life that you can acceptably sit down and introduce yourself at a dining hall table. Everyone is friendly and nobody has real friends yet, so if life has given you meal swipes, make conversation. 3. Go to a lot of random parties with strangers who might be your best friends by the end of the night. Or, pre-game in someone's pint-sized single, rock out to some Pitbull like it's NSOP 2012, and embark on the hourlong trip to find the party in East Campus that your Orientation Leader's friend's girlfriend's brother is hosting.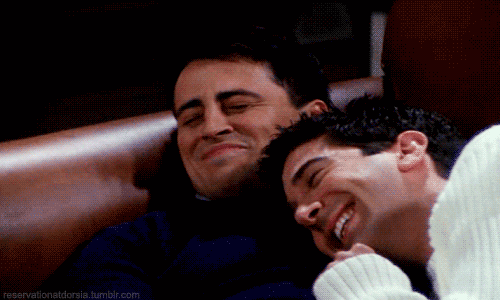 We have so many memories now. Giphy.com
4. Have little idea how to register for classes until the minute before your appointment. Frantic knocks on neighbors' doors and "OMG what is a call number?!" might ensue. But we'll have more advice on that soon.
5. Have a rollicking good time.