Now's the time for the final post in this four-part series on suiting: ties, pocket squares, and other accessories. Check out parts one, two, and three for tips on suits and shirting
Ties are one of my favorite menswear items. A man wearing a good tie looks distinguished and put-together, and people will treat you with a little more respect when you tie one on. I have more ties than I care to admit, and there's just something about putting one on that feels special.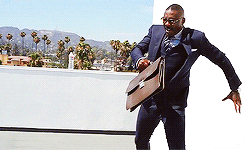 Courtesy of giphy
The "proper" width for a tie depends on who you ask. You'll find 2" ties by Alexander McQueen, 2.25" by Thom Browne, 2.5" by J.Crew, 2.75" by Ovadia & Sons, and even two vastly different widths at the same store, like Brooks Brothers---about 3.5" for their traditional line and about 2.5" for their more youthful Red Fleece line. The sweet spot seems to be from 2.5" to 3", depending on body type and taste---I tend to wear 2.5" ties because of my wiry frame. For a more trendy look that hearkens back to the '60s, try a 2" width. Just make sure that the width roughly matches the lapels of your suit and properly complements your collar (generally, smaller tie = smaller collar, but do experiment).
The same goes for knots. Traditionalists will often recommend a full Windsor knot, which makes a large, triangular knot. This seems far too symmetrical and stuffy for me, so I would recommend the more rakish, asymmetrical four-in-hand, which is what you see more of nowadays. Click here for a great set of tutorials for tie knots by Brooks Brothers. Don't forget the dimple!
The dimple!
drivingincarswithpocketsquares / tumblr
For patterns, trust your judgment and stay away from anything too garish or flashy.  It's okay to mix a patterned tie with a patterned shirt, but make sure the patterns are different sizes.
If you want to look as debonair as Don Draper and company, try a tie bar. Buy new, buy vintage---go crazy. I bought my favorite tie bar for $1 at a thrift store. Just make sure the bar is narrower than your tie and that you put it lower than your nipples so that it somewhat performs its original function---keeping your tie out of your food.
Finally, no suit is complete without a pocket square. It adds visual interest as well as a little bit of charming asymmetry. A foolproof way to start is a white cotton square, folded to have a single edge poking out of your breast pocket. Try a haphazardly folded patterned cotton square, a white one with colored piping around the edges, or a silk patterned one stuffed into a just right mess. Make sure your square complements your tie, but don't get all matchy-matchy---let's not go back to prom.
For the best deal on menswear accessories, I can't say enough about The Tie Bar---you can't beat high-quality $15 ties and tie bars and $8 pocket squares.
shibumi-berlin / tumblr